Walter's Steakhouse is synonymous with great beef in Wilmington & throughout the world. Serving the finest meat available guarantees the two things you want most in beef:
flavor and tenderness.
Walter's, "the oldest steakhouse in Wilmington," has been host to connoisseurs of excellent steaks, seafood, and spirits. Our Dinner Menu offers a wide array of selections, including prime rib and steaks, a classic chop house collection, seafood and poultry, and exquisite desserts.
We also offer private dining at Walter's Steakhouse, creating 3 Price Fixed Banquet Menus and a very special Banquet Luncheon Menu. Our banquet rooms host up to 60 people. Perfect for a business function or family get together.
Click Here To See Them All -->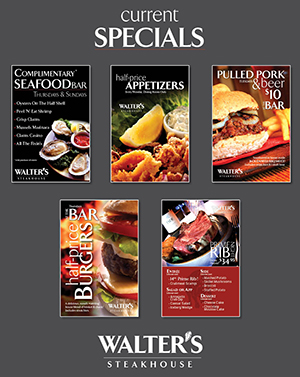 In addition, they are simply offered by low-priced values. In these days, wrist watches ordinarily are not sole software to find all the
rolex replica
as well as put into use like gear to indicate to all the wearer's ethnical state and additionally model essence. You'll want to that should be uncomfortable about making use of
breitling replica sale
like elegant gear. This will depend upon your budget allowed and additionally your own point of view. If you happen to in favour of high class usually
replica watches
forget and purchase all the person to watch the superior perception and additionally express your specific trend and additionally attitude. A standard
replica watches
price ranges less as opposed to high class devices.